2 hours away from Baguio City, you'll find the Northern Blossom Flower Farm in Atok, Benguet. This flower farm attraction has become very popular for those who are looking for side trips with Baguio as their main destination.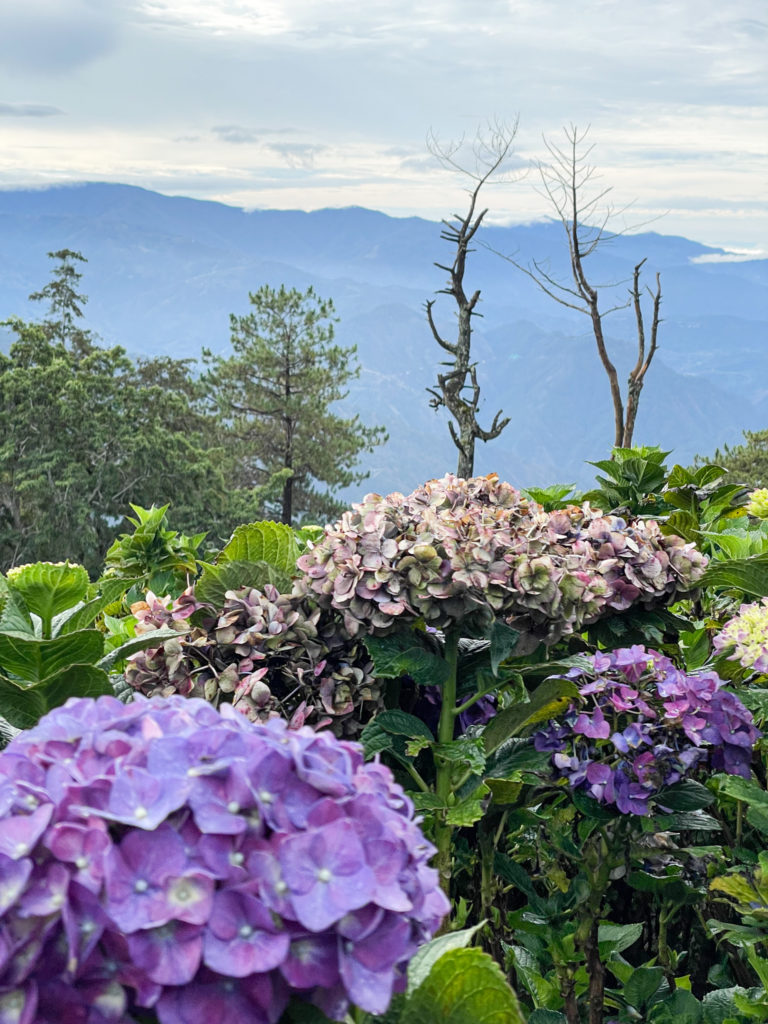 With an entrance fee of P250, you'll be amused to gaze at the flowers beautifully lined up at the farm. The farm is pretty wide to walk on and you'll have to take some steps up and down. It's just relaxing to look at them with the breathtaking mountains as their background. You can take unlimited photos and videos here and sometimes, the staff will assist you in how to take the best angles, shots, and poses. We definitely enjoyed the experience!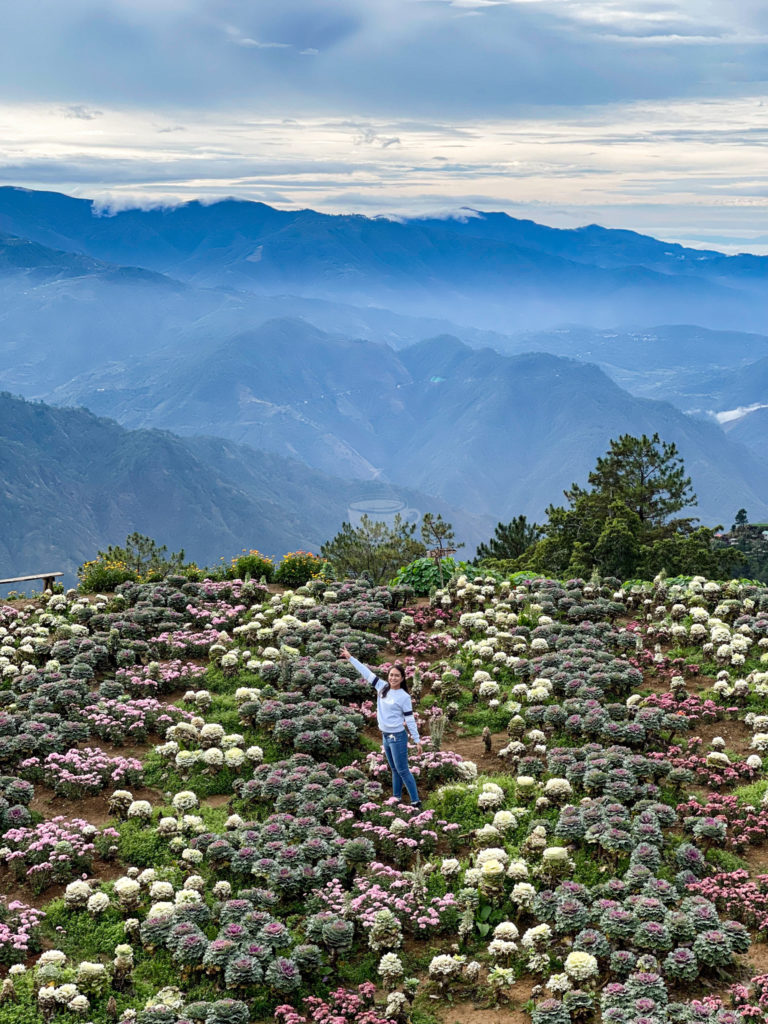 At the end of our self-paced tour, we took delight in their free coffee and bread. We also learned that they accept guests for an overnight stay in the farm which I think is the most ideal arrangement if you really want to catch the sunrise here.
This blog accounts our experience last 2022 after we hiked Mt Kupapey in Maligcong. We went to Baguio first because we needed a night to work and then went straight to Atok the next morning. We didn't have our own transportation, so the information I'll be sharing is going to Atok, Benguet via commute back and forth Baguio. Yes, you read this right, you can definitely have a DIY trip or commute your way to this picturesque farm.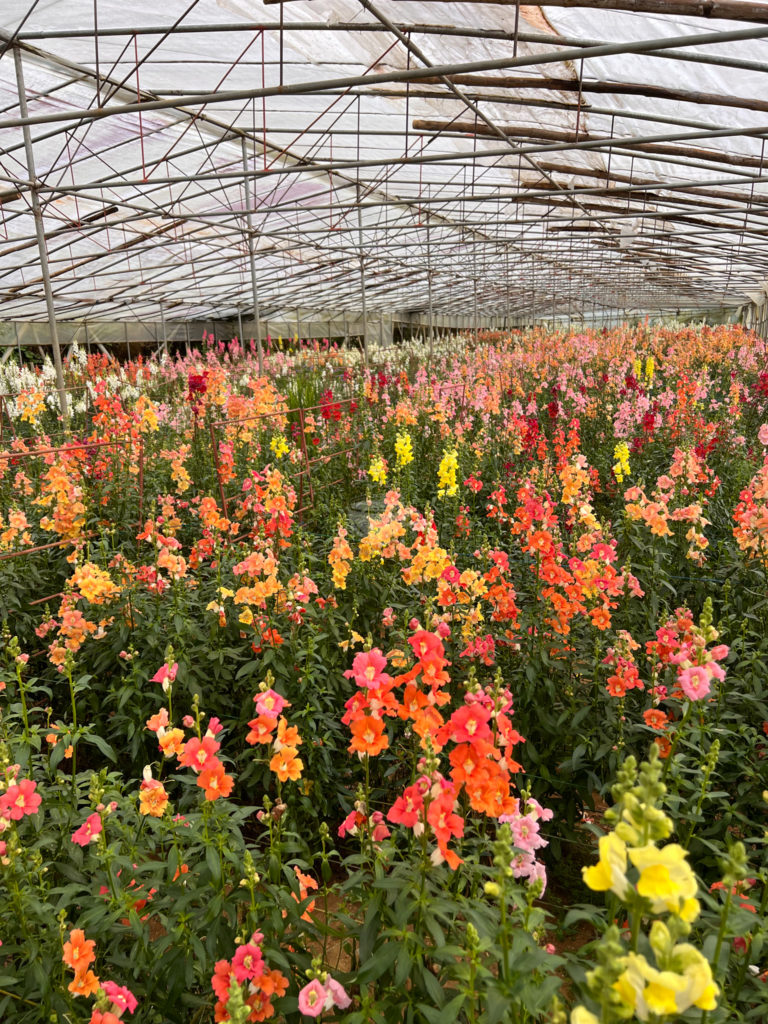 How To Go To Northern Blossom Flower Farm
QUICK BUT OKAY A BIT LONG ADVENTURE STORY, YOU CAN SKIP AND MOVE TO THE STEPS BELOW: I looked up online how to commute to Atok and found a pre-pandemic post in another blog, but because the not all transportation routes are back on track yet (during our visit), for us, it was a risk. We also haven't found an accurate schedule of the vans or buses going to Atok so we just got up early, wishing to chance upon a van or a bus. and arrive at sunrise.
From our hotel in Baguio City, we took a cab to Dangwa Station. When we arrived at Dangwa Station around 5:00am, there were no buses! We were already losing hope that this trip wouldn't gonna turn out fine. I went to ask some people around and found a van that will travel to Atok. However, we encountered another problem. The seats in the van need to be filled first before it can go and our clock's ticking. We were in a hurry because we need to be back to Baguio at lunch and return to Manila early in the afternoon. We couldn't do much but rethink our decisions because we understand that the drivers need to make the most of their trips and earn. Luckily before an hour passes, the passengers started to come and the driver decided to finally take off. The driver was nice to tell us where we should get off and he dropped us exactly at the entrance of Northern Blossom Flower Farm.
In short, here's how you can commute:
Let's say Manila is our origin. Take a bus from Manila to Baguio. There are tons of choices available at PITX or Cubao terminals such as Victory Liner, SolidNorth, and JoyBus. Travel time depends but usually it's 4-5 hours. You can also check out Klook and use my code for 5% off: DESA5OFF
In Baguio, take a cab to Dangwa. I know, it has the same name as the famous area with a lot of flower stores in Manila but in Baguio it is a terminal. Travel time and fare will depend on your origin.
From Dangwa, take a bus or a van going to Atok. Ask the drivers if they'll pass by Northern Blossom Flower Farm. Since it's a pretty popular destination, they are familiar with it. Travel time should take more or less than 2 hours. Fare is roughly about P200-250 for van.
To go back to Baguio from Northern Blossom Flower Farm, exit the farm and go to your right to walk up the way to Marosan's Eatery. (See photo below) It's just a few steps away and this is where the vans usually stop, you can take these vans to return to Baguio. Travel time is also 2 hours or more, depending on the traffic.

Sample Itinerary For DIY Trip To Northern Blossom Flower Farm:
This sample itinerary was based from my experience only. If you plan to catch the sunrise, you might need to adjust your timeline and plan your trip accordingly. Remember that if you are going to commute, the van or bus won't take off unless they are filled with passengers so consider your waiting time.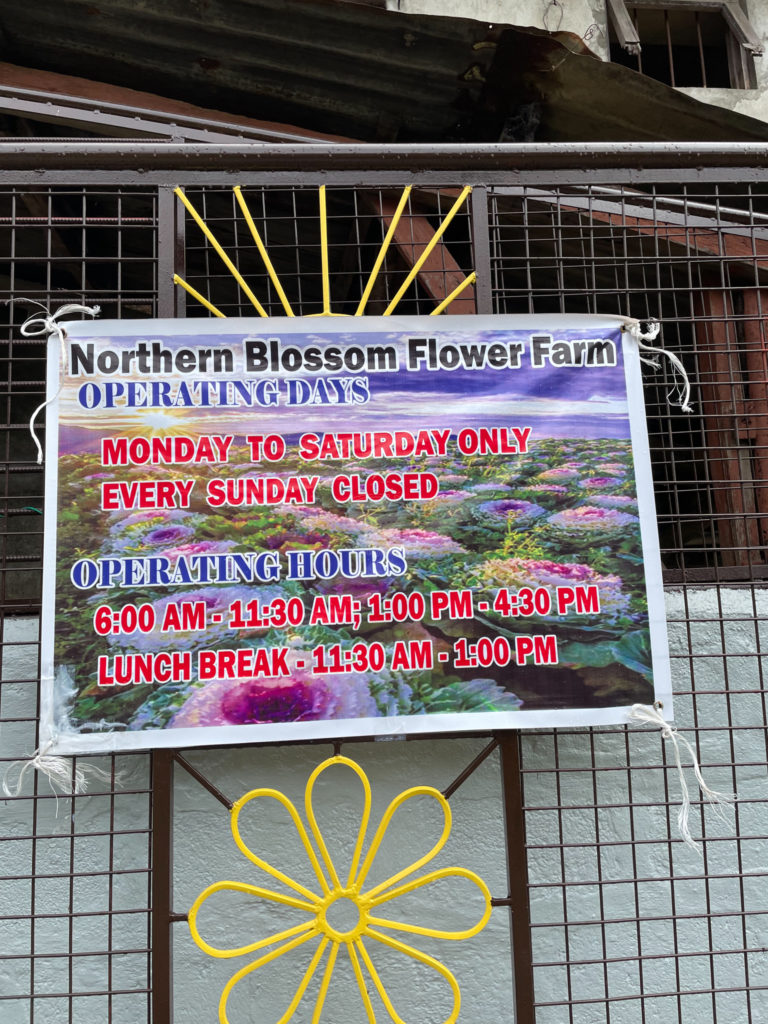 | | |
| --- | --- |
| 4:30am | CALL TIME IN BAGUIO CITY |
| 5:00am | ETA DANGWA TERMINAL | BOARD BUS OR VAN GOING TO ATOK |
| 5:30am | DEPART TO ATOK, BENGUET |
| 7:30am | ETA NORTHERN BLOSSOM FLOWER FARM |
| 9:00am | DEPART TO RETURN TO BAGUIO |
| 11:00am | ETA BAGUIO CITY |
Although our original plan was to catch the sunrise, we failed (which was okay), we were still blessed with gorgeous views and great weather. I'd definitely go back and visit again if there's another chance! I hope to stay in one of the rooms next time.

TIPS AND REMINDERS
Check the weather before going! Your visit at the farm won't surely be pleasant if it's all rainy and windy when you go.
Since this blog post's all about DIY, plan your trip accordingly. The whole trip will take most likely 5 hours in total, from and to Baguio.
Bring water and snacks if you'll come early in the morning and skip your breakfast. There's a 7-11 in Dangwa! You can get something before you go.
Fares and schedules indicated in this blog are subject to change without notice. ALWAYS check Benguet or Northern Blossom Flower Farm's official pages.

NORTHERN BLOSSOM FLOWER FARM
KM 50 BRGY SAYANGAN, ATOK BENGUET
Contact number: 09081513368
Open from Mondays to Saturdays
Open from 6:00am-11:30am; 1:00-4:30pm

ENTRANCE RATES PER HEAD
Adults 11-59yo – P250
Kids 6-10yo – P50
Kids 5 and below – FREE
Senior Citizen or PWD with ID – P200

OVERNIGHT STAY
Couple's Room – P1500
Couple's Room with extra pullout bed – P1800
House A: 4 Rooms with Kitchen and Two Comfort Rooms – P4000
House B: 2 Rooms with Kitchen and Comfort Room outside – P3000

Love flowers? Read this: Fifty Nine Flower Cafe Is Makati's Charming Flower Shop and Cafe in One

Let's follow each other on Instagram @destayting and Tiktok @destinationsandtea. See you around!