Where to eat in Siquijor? I know I mentioned how much our budget for food was in our Siquijor trip last August 2023, but in all transparency, we went over that. I included that amount in the breakdown of expenses because that's our initial and projected budget. Calm down, I was not after your clicks, but of course we want to be as flexible as we can when it comes to food budget and try the specialties of the places we are visiting. That amount can still work, trust me. You can talk to the ones who have been to Siquijor before. P150 per meal per person will do if you stick to the local eateries or better if your accommodation offers breakfast.
You can go back and check the full guide for Siquijor here: https://www.destinationsandtea.com/2023/09/17/travel-to-siquijor-for-only-p7000-diy-guide-2023/
But anyway, I'm sharing with you a list of where we ate and drank in Siquijor! Most of them are in the San Juan area because this is where we stayed.

NOTE: PRICES AND OPERATING HOURS MAY CHANGE WITHOUT AN UPDATE OF INFORMATION HERE. Better to check their social media pages for the latest update.
Tawhay Cafe and Restaurant
📍Tawhay (it is searchable on Google maps) along National Highway just across Sea View Resort
🕰 7:00am-10:00pm, open daily
💲 Php 200-Php350+
FB: Tawhay Resto Cafe
This open-air restaurant has literally a cafe beside it of the same name. They serve Asian-inspired cuisine including Filipino, Indonesian, Korean, and more for breakfast, lunch, and dinner. Fun fact: there's an ATM beside it.
2. Luca Loko
📍Luca Loko (it is searchable on Google maps) along National Highway in front of Maite Marine Sanctuary
🕰 8:00am-10:00pm, open daily
💲 Php 150-Php350+
FB: Luca Loko Restaurant
If you're looking for anything healthy, vegetarian, and vegan, go to Luca Loko. They have Buddha Bowls, Vegan Noodles, and more. This is just a 2-min from Enrico's Guesthouse, our accommodation (check full guide to know more). Dined here twice and tried their pretty smoothie bowl and a bowl of kimchi rice. They have amazing coffee, too. Service is easily a 10/10, the staff were all so accommodating. They even provided a wet towel so you can freshen up and they have a free Wi-Fi which is a 100% yes for digital nomads/remote workers.
3. Dalahikan Grill Masters
📍Dalahikan Grill Masters
🕰 9:00am-11:00pm, open daily
💲 Php 80-200+
FB: Dalahikan Grill Masters
If you love grilled seafood, chicken, and other skewers paluto-style and other home-cooked dishes, this is the place for you. Choices of seafood may vary depending on what's available from their supplier. First, choose your food and then they're going to grill or cook it how you want it. It's along the highway but their dining setup has a side that faces the beach which is perfect for sunset viewing. This is one of the many affordable choices in the area but of course, do not expect something fancy, just good and freshly cooked food.
4. Kape De Guyod
📍Kape De Guyod (along the highway, in front of Monkey Business), Solangon, San Juan
🕰 8:00am-9:00pm, open daily
💲 Php 80-200+
FB: Kape De Guyod
I lost count of the times I went to this cafe because I loved the vibe. Their Spanish Latte is 10/10! The coffee selection is great, too. It's giving tropical Bali but will also provide comfort and convenience if you're working on your laptop/phone. They have electrical outlets everywhere and free, fast Wi-Fi (except when it rains, it kinda slows down). When I went here, the place is pretty quiet because those were weekdays. There are no meals here, only pastries. Limited parking available.
5. Runik
📍Runik (along the highway), San Juan
🕰 11:00am-1:00am, open daily
💲 Php 350 per person, consumable
FB: Runik
Runik is a cliff-club and lounge for adults only, it's not necessarily a place you'll go to if you're hungry. You go here to have drinks and chill in their jacuzzis. They have couches and cabanas where you can relax and watch the sunset. Door charge/charge upon entry is P350 as of Aug 2023 which is consumable of anything from their menu. They have cocktails, beers, tapas, and other munchies.
6. Bucafe
📍Follow the sign from Julie's Bakeshop in San Juan, don't follow Google Maps (4km from Julie's Bakeshop, around 5-6min drive)
🕰 9:30am-7:00pm, open daily except Wednesdays
💲 P100-P300
FB: Bucafe
Bucafe is a cafe uphill and boasts a gorgeous view of the mountains and sea. They have great coffee and brunch choices, perfect after your morning stroll at Paliton Beach.
Bucafe is located at the Upper Boulevard, 4km from Julie's Bakeshop in San Juan. Don't follow what Google Maps says because the right way isn't loaded on Google yet (As of Aug 2023). Better to always check their social media for updates.
7. Angel Wish
📍Angel Wish (along the highway), San Juan
🕰 6:00am-10:00pm, open daily
💲 P200-600 depending on the dish
FB: none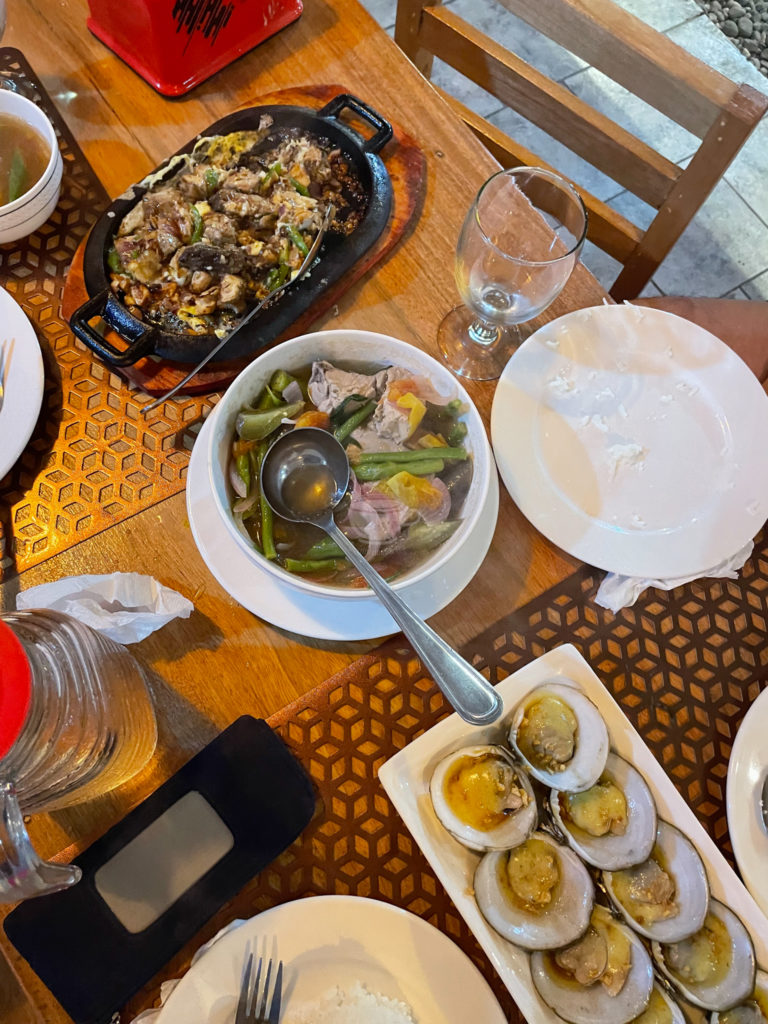 Angel Wish also offers market-style, paluto of fresh seafood. They have clams, fish, prawns, and more. We ordered Baked Scallops and Fish Sinigang. They also serve other Filipino dishes such as, Sisig, Pinakbet, and Kare-kare among many others.
8. Dolce Amore Italian Restaurant
📍Dolce Amore Italian Restaurant (along the highway), San Juan
🕰 8:00am-9:00pm, open daily
💲 P200-600 depending on the dish
FB: Dolce Amore Italian Restaurant
The restaurant serves Italian food like pasta and pizzas. We went here for their gelato!
9. Premium Bakery (by Park N Go)
📍Near San Juan Municipal Hall
🕰 6:00am-11:00pm, open daily
💲 P5-P100
FB: none
This bakery is new in town in August 2023 and they offer freshly-baked goods. We love their cheap (P40) iced coffee and Pan De Coco!
10. Annabelle's 24/7 Express Diner
📍Poblacion, San Juan, Siquijor
🕰 24/7
💲 P12-100
FB: Annabelle's 24/7 Express Diner
This resto grill is for anyone who needs and wants straightforward Filipino food, skewers, grilled seafood or chicken, soup, and more. It's perfect for post-walwal meals. Their offerings vary per day. This one is also for those who are on a tight budget because they sell a barbeque stick for as low as P12. We dined here and our bill for 2 people was only Php135.
Got resto and cafe recos in Siquijor? Comment or send me a message at @destayting on Instagram or @destinationsandtea on Facebook and Tiktok!