What was once an intriguing and creepy island to many, now draws a lot of attention online because of its natural beauty. Siquijor is an island in the south of Negros in Visayas dubbed as the Mystic Island or the Island of Fire.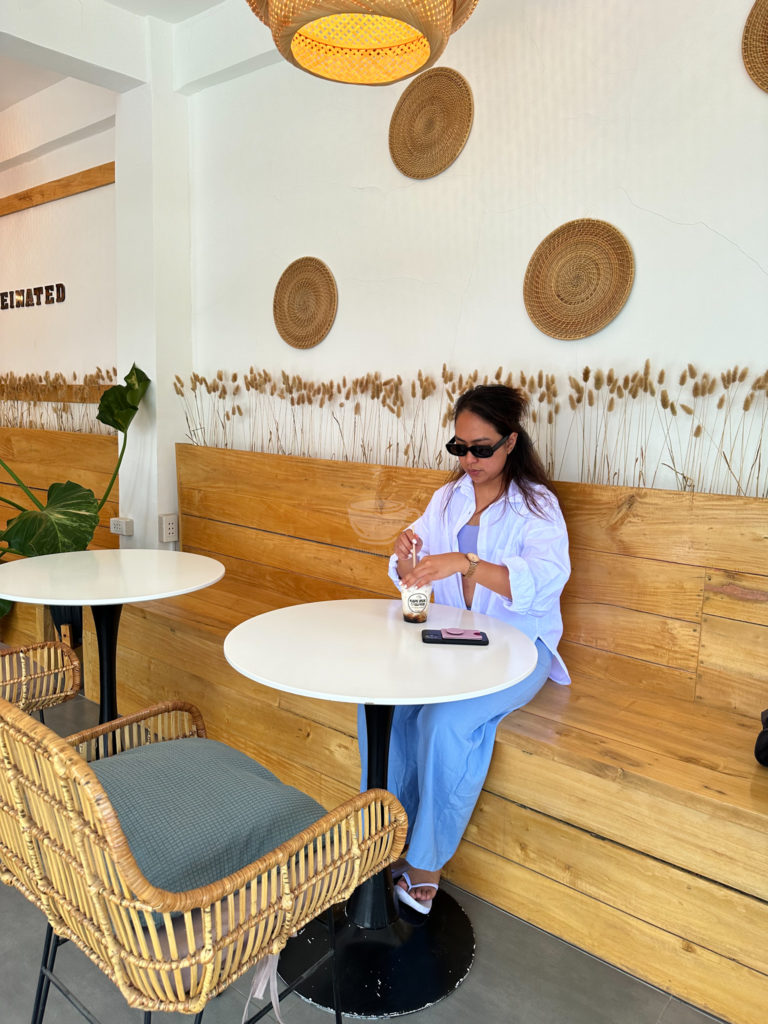 The island bears a lot of myths, folklore, and even stories of witchcraft that I wouldn't dare to know if true. It would often be called as a land where there are a lot of supernatural creatures. They even said that if you want to get some potions, it is the place to be.
But beyond that, the island boasts an irresistible natural beauty, especially its coasts. The mesmerizing water-locked island will welcome you with crystal clear, turquoise blue waters at its seaport which is the only entry point since its airport has long been closed.
Traveling within the island is relatively cheap and I was thrilled to discovered that there are no overpriced entrance fees or charges of the same kind to enter the attractions.
San Juan is the municipality where most of the tourists are, so I must say it's the busiest area, since this is the area where most of the cliffs and beaches are. This is also where you'll find most restaurants, hotels, and cafes. Stay at San Juan if you want to walk to the beach or to the mentioned points of interest. It's more or less than 30 minutes from the seaport.
If you are catching an early trip to your next destination or back to where you'll be flying from, you can stay near the seaport area in the municipality of Siquijor in the province of Siquijor.
I recently went to Siquijor for my birthday week (as part of our 9-day backpacking trip) and we spent 4 days and 3 nights – more than enough to see what Siquijor has to offer. Here's a guide which might help and I will try to be as detailed as possible!
How To Get There
There are many ways on how you can get to Siquijor. 
From Manila, you can fly to Dumaguete and take a fastcraft or ship to Siquijor. Depending on which shipping line, this can cost you around P350-1000. Travel time is approximately 50 min to 2 hours.
You can also take the fast crafts or ships from Tagbilaran in Bohol or Cebu.

We came from Dumaguete and opt to take Oceanjet to Siquijor because it has the shortest travel time of 50 min but the tickets are limited since they only have two trips daily. Also, note that these shipping lines ticket booth open only at least an hour before the trips and there is no reservation, always first come, first serve basis.
As of August 2023, here's the schedule to and from Siquijor:
Montenegro Shipping Lines
Siquijor to Dumaguete
7:30 am
10:00 am
2:00 pm
4:30 pm
Dumaguete to Siquijor
7:00 am
10:00 am
2:00 pm
6:00 pm

Aleson Shipping Lines
Siquijor to Dumaguete
6:00 am daily
1:30 pm Mon to Sat only
6:00 pm daily
Dumaguete to Siquijor
8:00 am daily
10:00 am Mon to Sat only
6:00pm daily
Oceanjet Fast Ferries
Siquijor to Dumaguete
6:00 am
6:00 pm
Siquijor – Tagbilaran – Cebu
8:20 am
Dumaguete to Siquijor
7:20 am
7:10 pm
Note that fare prices and schedule are all subject to change.
Where To Go | Places To Visit in Siquijor
Cambugahay Falls – Php 20 environmental fee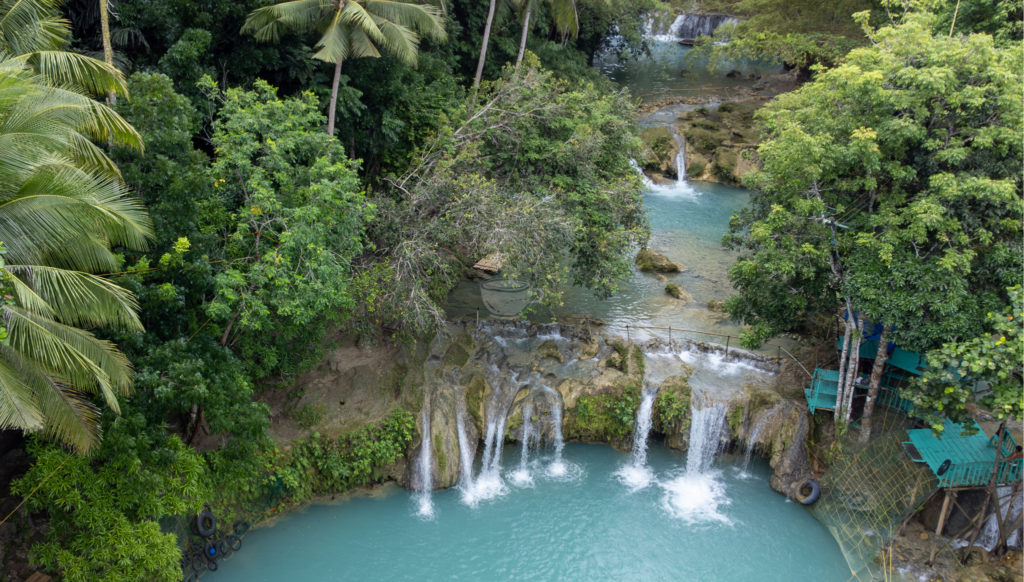 The 3-tier blue green falls is one of the must-visit in Siquijor and popular for they swings that drop you to the refreshing water. The place opens at 8:00am and has an environmental fee of Php 20 at the entrance.  There is no entrance fee but the local guides may come with you. Paying them is not mandatory but they will ask for donation. There are also tables around the area where they also ask for donation. The popular swing is for free but the rafts are for hire. Dressing rooms and showers are available for a fee.
2. Bucafe – free entrance
The name Bucafe literally means a cafe in the middle of a bukid or bundok (mountains) in Negros. This place is probably one of the highlights for us because we love anything with mountain views. The cafe serves pretty affordable meals and delicious iced coffee. The view and ambiance is relaxing!
3. Paliton Beach – Php 20 environmental fee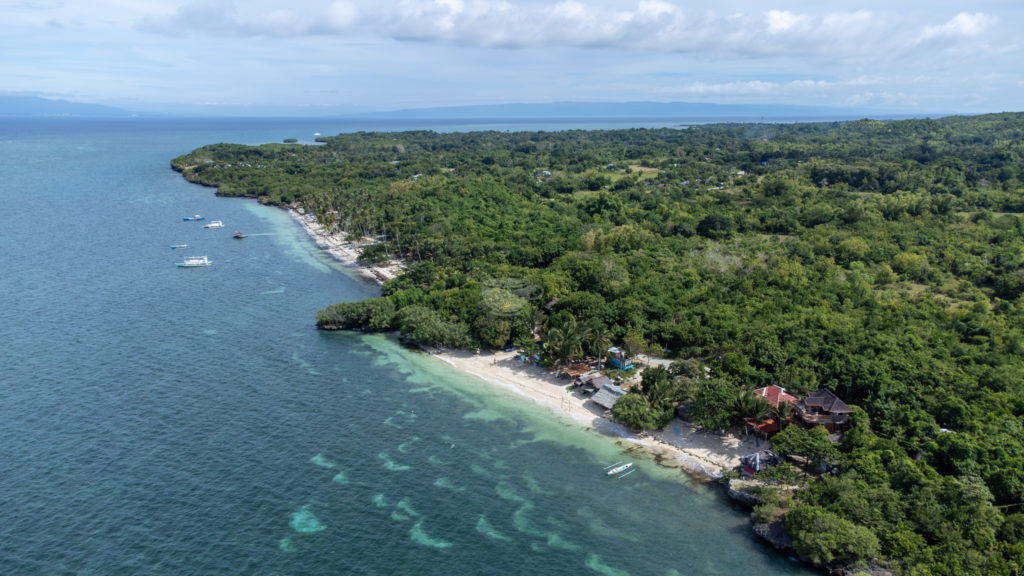 The busy white sand beach, Paliton Beach, has two parts – the small and bigger one. This is where the popular human drones are and they can get you a drone-like video in exchange of donation. There are stores where you can buy snacks and souvenirs. Better to come in mid-day or after lunch if you want to swimming to enjoy the waters because depending on the season, tides get low in the morning or late in the afternoon.
4. Secret Beach – free entrance
Saw this beach on Tiktok and when we went there, the roads are eerily quiet and sketchy it was a bit scary! Haha but we safely arrived, there were just no other people – no wonder why they call this a secret beach. We left as soon as we can because we were uncomfortable that there were no other people. This is nice if you want a secluded beach all for yourself and the beach is easy to locate on your maps. There's no internet within the area so set the navigation before driving.
5. Lazi Church – free entrance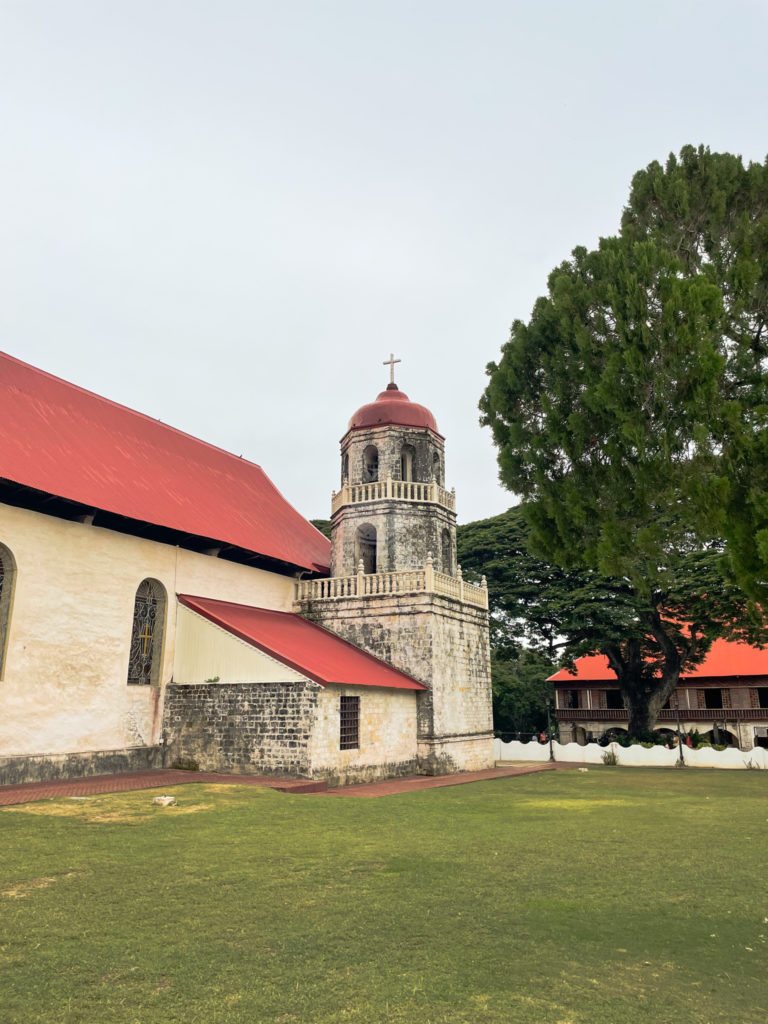 Lazi Church in Lazi, Siquijor is also known as San Isidro Labrador Parish Church, a 30-min drive from San Juan. It is a beautiful work of architecture by Filipino artisans and it is made of coral stones and hardwood.
6. Balete Tree – Php 20 entrance fee
Tourists visit the Old Enchanted Balete Tree to try the fish spa where you soak your feet and while the fishes feed on your dead skin cells. We didn't enter the area but we ate at the restaurant so we had pictures of the place anyway. There is a wide assortment of souvenirs in this area.
7. Salagdoong Beach – free entrance
This beach is inside a now-defunct resort and as of this writing, swimming is not allowed here. You can take pictures and explore the area though.
8. Runik – Php 350 consumable
Runik is a new beach club at Siquijor, a perfect place for sundowner. They serve cocktails, beer, and munchies. You can also use their facilities such as the cabanas and jacuzzis.
9. Capilay Natural Spring – free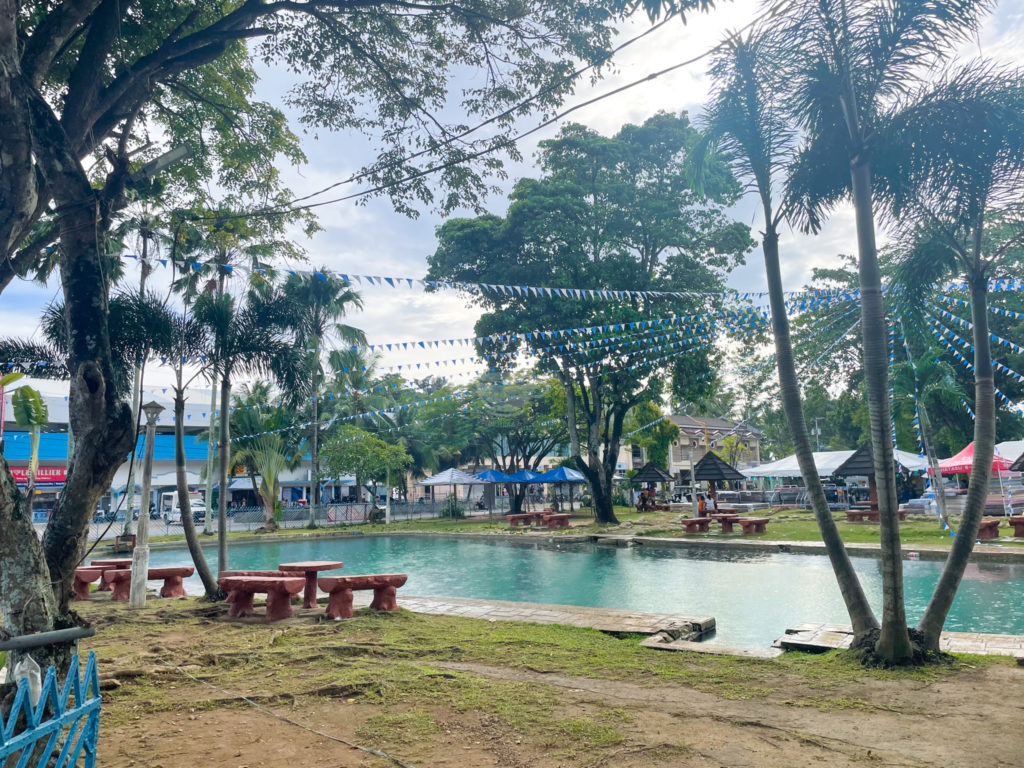 Capilay Natural Spring is literally a natural spring with clear waters (there are even fishes here) where everyone can swim for free. It's beside the municipal hall and locals take a dip here at daytime.
How To Get Around
Siquijor is somewhat like a laidback version of Siargao in its early days to me. You can rent a motorbike here for as low as P300 per day (we got ours for P350 and rented from our accommodation) or if you don't know how ride it, you can hail tricycles which are all over the island. The destinations are can all be searched on Google Maps and Waze so you can easily get there by yourself through a motorbike or tricycle.
If you are touring around, you can arrange and agree with these tricycle drivers for a price for the day and choose the destinations you want. I heard it's usually around P1000-1500 depending on how much you'll agree with.
Where To Stay In Siquijor
Luckily, we were able to score a really cheap deal for our accommodation in Siquijor. We stayed at Enrico's Guesthouse in San Juan and I booked it in advanced on Booking.com. We got it for only around P2300 at Booking.com: https://www.booking.com/hotel/ph/enrico-39-s-guesthouse-san-juan.html
We love it because:
It's a beachfront accommodation with a relaxing veranda!
There's a common kitchen area that guests can use for free
There's free refillable, cold and hot drinking water
There's an outdoor space where we can dry our clothes
The owners and caretakers are so nice and helpful!
They have an in-house car service which gets you to and from the accommodation for only P350 as well (same rate as tricycles)
They allowed us to check-in early at around 9:00am (I think you can request as long as the room is ready)
They are very responsive through Booking.com app/website messaging
There are some things we didn't like such as weak water flow from the shower and the data signal can also be fluctuating sometimes, but overall, it's really a great value for money if you don't mind having a simple accommodation without the extras. It can totally cover all the essentials already. Plus, you won't be staying for long in your room because you're going to explore the whole day. The property is pretty old but decent, clean, and well-maintained.
Other options available on Klook:
1. Siquijor Eastern Garan Seaview Resort (from Php 1298.38)
https://www.klook.com/en-PH/hotels/527586?aid=36208
2. Siquijor Glamping Village (from Php 2193.29)
https://www.klook.com/en-PH/hotels/1231468?aid=36208
3. Diamond de Siquijor Beach House (from Php 1378.40)
https://www.klook.com/en-PH/hotels/548023?aid=36208
You can use my code DESA5OFF for 5% off (min spend of $50).
Sample Itinerary – Siquijor 2023
Day 1
6:30 AM Get tickets at Oceanjet (Ticket booth is very near the entrance of the port)
7:20 AM Depart via Oceanjet to Siquijor
8:30 AM Arrive at Siquijor seaport, take tricycle to accommodation
9:20 AM Early check-in
10:00 AM Get brunch, rest
4:00 PM Visit Runik for sunset
6:00 PM Dinner, cafe
10:00 PM Lights out
Day 2 (Play this by ear, we were flexible and we really took time per place)
6:30 AM Call time, breakfast
8:00 AM Get to Cambugahay Falls
9:00 AM Drive to Lazi for Lazi Church, take photos and quiet time
10:00 AM Drive to Secret Beach
11:00 AM Drive to Salagdoong Beach
12:00 PM Lunch at Balete Tree Restaurant, visit Balete Tree
1:00 PM Back to accommodation
2:00 PM Free time
7:00 PM Dinner
Day 3
7:00 AM Early stroll at Paliton Beach
9:00 AM Breakfast at Bucafe
11:00 AM Ukay-ukay at Siquijor
(We spent the rest of the day swimming in front of our accommodation and trying out restaurants and cafes. You can include Pitogo Cliff, Kawayan Holiday Resort, and other destinations here)
Day 4
7:00 AM Calltime, ETD to seaport
7:30 AM Light breakfast at seaport
8:30 AM En route to next destination
Breakdown of Expenses
| | |
| --- | --- |
| Tourist Class – Roundtrip Oceantjet tickets | Php 700 (Php 350 each) |
| RT Airfare – Cebsuperpass | Php 2600 (around Php 1300 per person only!) |
| Terminal fee | Php 30 |
| Tricycle/service to and from seaport | Php 700 |
| Cambugahay Falls Environmental Fee | Php 40 |
| Paliton Beach Maintenance Fee | Php 40 |
| Enrico's Guesthouse (3 nights) | Php 2300 |
| Motorbike rental (3 days) | Php 1150 |
| 3-day Food and miscellaneous | Php 6000 (you can adjust here) |
| (Optional) Runik Entrance Fee (consumable) | Php 700 |
| TOTAL | Php 14,260/2 = Php 7,130 |
These expenses are for a group of 2.
Alternatively, you can check out these transport and activities in Siquijor that you can book through Klook if you don't like to DIY:

Siquijor Oceanjet Ferry Ticket
https://www.klook.com/en-PH/activity/88277-dumaguete-siquijor-oceanjet-ferry-ticket/?aid=36208

Siquijor Cambugahay Falls and Heritage Day Trip
https://www.klook.com/en-PH/activity/6103-siquijor-cambugahay-falls-and-heritage-day-trip-dumaguete/?aid=36208
Let's connect! Follow me on Tiktok/Facebook @destinationsandtea and on Instagram @destayting <3