To say Bukidnon is beautiful is an understatement. Its vistas can be compared to the ones in New Zealand or Australia, with mountain ranges and grasslands in vibrant shades green. Truly, it is breathtaking in infinite ways.
For hiking enthusiasts, it's a wonderland. I was first drawn to visiting Bukidnon when I saw aerial videos of the mountains in Impasug-ong. I looked up for what ridges are best for first-timers and decided to go when the travel restrictions finally ease up.
In our case, we came up with 3 destinations that could fit our schedule and those are RotyPeaks Ridges Camp, Panimahawa Ridge, and Mt. Kulago. We had 6 days with time allowances for charging our gadgets, taking a bath, and of course, resting. You can't go on and enjoy the whole trip without those and a 6-day nonstop hiking would be uncomfortable for us anyways. So, note that the itinerary below was based on this preference. Also, there's no direct flight to Bukidnon coming from Manila. We opted to go via Laguindingan Airport in Cagayan de Oro and took a bus that travels for 2 hours.
Travel Requirements:
Before you go, always check the updated travel requirements of all LGUs you'll visit. In this case, check:
1. Impasug-ong Tourism
2. Cagayan de Oro (as a passing-through traveler)
3. Bukidnon/Region X Tourism
When we traveled, both where came from (Metro Manila) and our destination (Bukidnon) are in Alert Level 1. In some establishments, we were just asked for our vaccine cards (we're both fully-vaccinated with booster shots) but we made sure we have the Traze and StaySafe app and got QR codes of CDO's contact tracing. Get yours through this link: https://s-pass.ph
Here's our 6-day Bukidnon Camping and Hiking Itinerary:
DAY 1
7:00-8:30am Travel to Cagayan de Oro
8:30-9:30am Travel from airport to Agora Terminal
9:30-11:30am Brunch and buy essentials for camping at the terminal (estimate time only)
11:30-1:30pm Travel to Impasug-ong, Bukidnon
1:30-2:30pm Travel to Roty Peaks Ridge Camp via tricycle and habal-habal
2:30pm onwards Check-in and chill at Roty Peaks Ridge Camp
DAY 2
7:00am Breakfast
10:00am Check out at Roty Peaks Ridge Camp
10:00-11:00am Travel to transpo terminal in Sumilao (near Impasug-ong) via habal-habal
11:00-12:00pm Lunch and buy other camping needs
12:00-12:30pm Travel to meet-up place – Impalutao Elementary School
12:30-3:00pm Waiting time (We arrived at the meet-up place super early)
3:00-3:10pm Travel to Panimahawa Base Camp
3:10-5:10pm (Estimate only) Set up camp, chill, and prepare dinner
10:00pm Lights off
DAY 3
5:30am Sunrise viewing, cook breakfast
6:00-6:30am Break camp
6:30-7:00am Shoot photos and videos
7:00-8:30am Descent and return to base camp
8:30-9:00am Arrival at accommodation, check-in
9:00am – onwards rest for the rest of the day
7:00pm – Dinner at Quadra
8:30pm – Back to accommodation
10:00pm – Lights off

DAY 4
8:00am – Breakfast at the cafe
8:30am – I asked them to pick us up from our accomodation.
9:00am – ETA Mt. Kulago jumpoff
11:00am – Start hike
1:00pm – ETA Mt. Kulago campsite
5:30pm – Early dinner
8:00pm – lights off
DAY 5
4:00am – Start trekking to summit of Mt. Kulago
5:30am – ETA Mt kulago summit ( relax and wait for sunrise , take pictures )
7:00am – decend going to campsite for breakfast
8:00am – campsite ( breakfast & coffee , hipus na para mu ready na mo uli )
9:30am – start trek going to communal ranch
10:30am – communal ranch going back to jump off
11:00am – ETA jump off
12:00pm – Lunch at Quadra (We asked our driver to drop us off here)
1:00pm – Back to Hyper Vista Resort to clean up, refresh up and get our things
2:00pm – Depart to Sumilao terminal for bus to CDO
4:00pm – ETA CDO, check-in at G Suites Hotel in CDO
5:00pm – Cafe hopping in CDO
8:00pm – Dinner
10:00pm – Lights off

DAY 6

7:00am – Breakfast at hotel
8:00am- Quick cafe hopping
12:00pm – Depart to Laguindingan Airport
2:00pm – ETA Laguindingan Airport
3:00pm – Flight back to Manila
5:00pm – Back to Manila
How To Go To Impasug-ong, Bukidnon
From Laguindingan Airport in Cagayan de Oro, take a shuttle van right outside of the airport, from the Arrivals Area. This costs P200 per head. You can tell the driver to drop you off directly at Agora Bus Terminal. If you still have a day to roam CDO, you can alight in CDO downtown.
From Agora Terminal, take a bus going to Malaybalay or ask the attendants there that you'll go to Impasug-ong. Tell the collector to drop you off Impasug-ong Tourism Center which is along the highway. Fare is around P130-140 per person. Travel time depends on traffic but it's usually an hour and a half to 2 hours.
Travel Guide, Itinerary, and How To Go To Roty Peaks Ridge Camp
Travel Guide, Itinerary, and How To Go To Panimahawa Ridge
Travel Guide, Itinerary, and How To Go To Mt. Kulago
Accommodation in Impasug-ong, Bukidnon:
Most hotels, transients, and pension houses are in Malaybalay, the capital of Bukidnon and Valencia City, which is an hour away from Impasug-ong.
We had to book only one night somewhere in Impasug-ong to take a bath, charge our gadgets, and wash some of out things so we searched the nearest and the decent ones near the jump-off. Luckily, we found Hyper Vista Resort Farm which has a room for 2 for only P1500. Entrance fee is P100 which every person must pay and excluded in the room rate.

Hyper Vista Resort Farm
Facebook: https://www.facebook.com/hypervistafarmresort
Contact number: 0935 218 9182
The resort was really a huge help and offered convenience for us. It has a cafe, a swimming pool, and a long list of amenities for their resort activities but then again, we just wanted a room where we can clean up and rest. After an overnight stay, we asked a favor of leaving our other luggages while we hike Mt. Kulago and they said yes! After hiking Mt. Kulago and retrieving our things, we paid another entrance fee and used their public bathrooms to freshen up.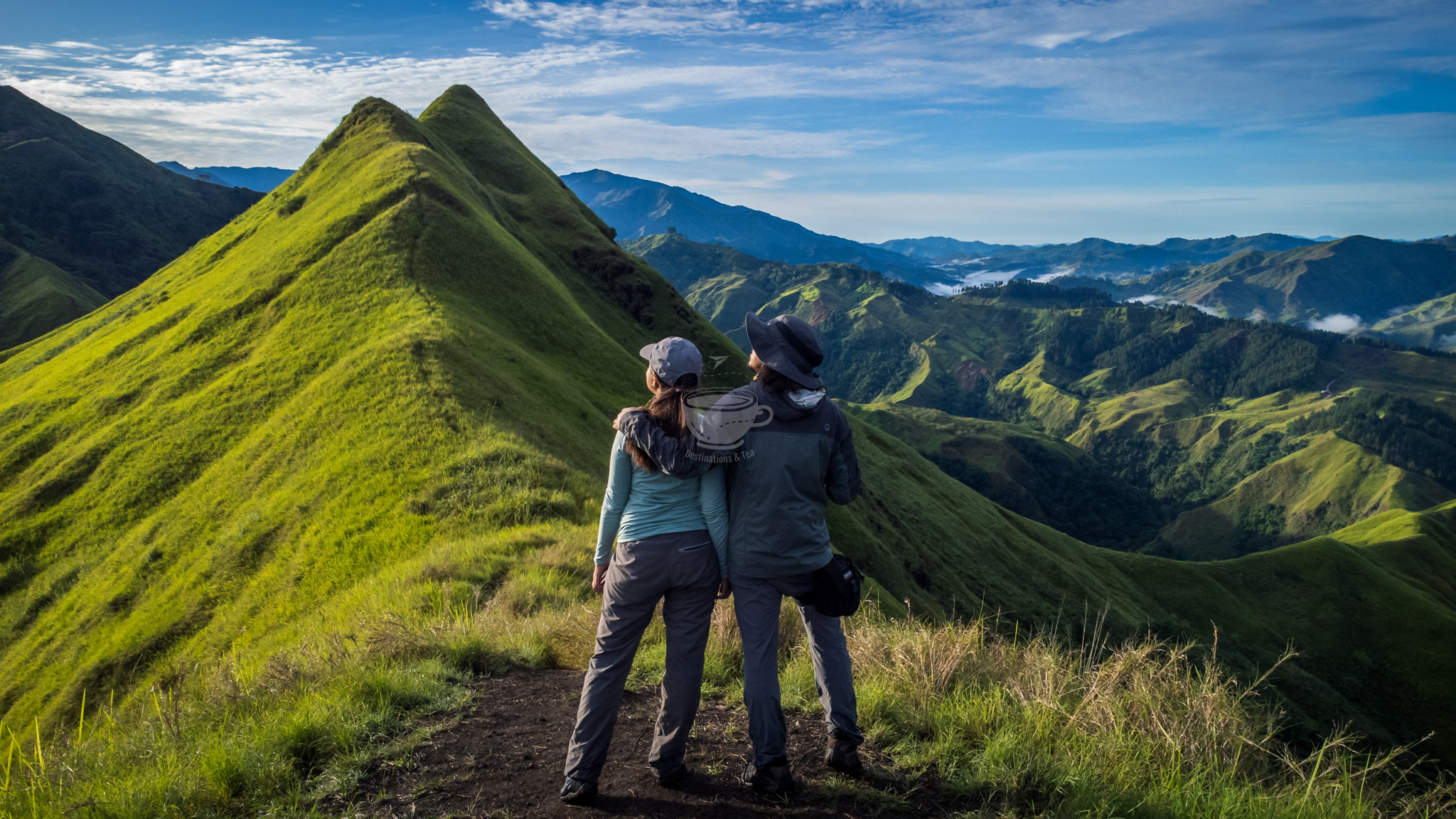 Notes and tips:
DAY 2: We were supposed to meet-up with Sir Bobby at 3PM, but we finished all the things we need to do early. By 1PM, we waited in a nearby eatery since we came from Roty Peaks Ridge Camp and ate
Agora Terminal has vans if you opt for those going to Bukidnon. In the area, there is Jollibee, Savemore, Dunkin Donut, a lot of eateries and stalls of different merchandise and a 7/11 nearby.
As of this writing, there are no travel requirements asked from the airports than the QR codes for contact tracing but we always have our vaccine cards ready for presenting.
How to go around Bukidnon: You can ride multicabs or motorelas for only P10-20 depending on your destination. There are habal-habal/motorbikes by chance or by arrangement which costs P150-200 depending on the destination. Buses are also available if your destination is far. There are no jeepneys, taxi cabs, Grab or Angkas in the area.
Try out Quadra restaurant in Impasug-ong! The dishes are delicious at decent prices.
Hyper Vista Farm Resort's activities can also be a part of your itinerary. They have kayaking, wakeboarding, and more. It has also a cafe named Hillside Cafe. Their moron and sikwate is a must-order.

Feel free to ask questions through Destinations&Tea on Facebook!