My Backstory (You can skip if you like)
Weekdays have become my favorite time to travel out of town. Now that the travel restrictions in Manila/NCR is truly at ease already, I am so thrilled to be thinking about and planning my travels and adventures again.
That included our recent trip to Dingalan, Aurora. My friends and I had this idea to go there because we wanted to hike, but only an easy one, plus the view was said to be superb.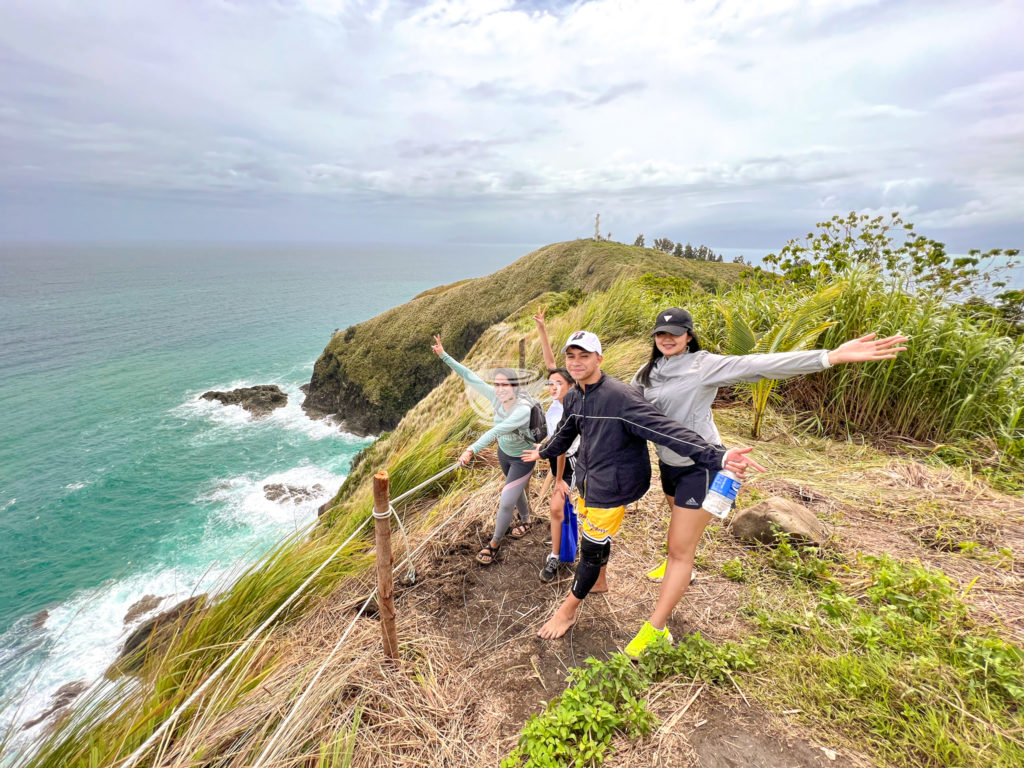 Dingalan is a 3rd class municipality in Aurora. It's called Batanes of the East because of its cliffs and the view that resembles the scapes in Batanes. The most popular destination here is the Dingalan Mountain View, like what you'll always see on Google. That's also where the famous lighthouse is located. Apart from that, there's Tanawan Falls, Matawe Beach, Lamao Caves, and more. Our main target was to see the mountain view.
We were very sure we'd go until it started to rain in Manila, days before our trip. We checked the weather and already got a guide from Facebook, Jeff. Jeff told us that it's safe to push through although he admitted that the weather's cloudy and there's a heavy chance of raining.
My friend Mc Lien really wanted it to happen. She's a busy working girl, too, and there's no other day she'd be available if we cancel it. And so I also just went for it.
How To Go To Dingalan, DIY-Style:
Planning this trip made me a anxious but at the same time, excited. Anxious because the blogs or details I find about DIY trips to Dingalan are either not updated or incorrect. This is what the pandemic does to travels and blogs. Guidelines are always changing so you have to triple check with all the logistics.
I had to become thorough in preparation. I checked the bus lines that have trips to Dingalan and their schedules. That's when I found out that they don't have trips directly to Dingalan anymore.
You have to take a bus to Cabanatuan. Bus lines that offer trips for this are Five Star, Baliwag Transit, and Cisco.(Check their Facebook pages because daily trips may change in short notice) All their terminals are in Cubao. From Cabanatuan Central Grand Terminal which is the last stop, take a bus to Dingalan. There used to be vans that travel to Dingalan for shorter travel time, but they also stopped running for a time now. Travel time to Cabanatuan is 2-3hours and Cabanatuan to Dingalan takes around 2 hours. A total of 4-5hours, still depending on the bus stops and speed.
From Dingalan town, take a 5-min tricycle trip to the feeder port and then trek to White Beach for 40 mins or an option to ride a boat for only 15 mins.
From White Beach to reach the Mountain Viewpoint, you'll have to trek for about 30mins to 1 hour.
Dingalan Tour Guide
I scoured Facebook and found a veteran tour guide, Sir Jeff. You may contact him on Facebook: Jeff Ramirez Tipontipon or at 09067839634. He's very responsive on Facebook and very patient to my questions. He's accommodating and will volunteer to even take your photos! Guide ratio is 1:5 guests.
Travel Requirements
This guide was reference to when we traveled in February 2022. NCR where we came from was at Alert 2. We just brought our valid IDs and vaccination cards just in case, but we weren't asked any of this during our trip.
The Ganaps, Sample Itinerary
This was very inconvenient for us who planned on going for a daytrip only. The earliest bus trip we found was only at 4:00am and we expected to arrive at 9:00am or 10:00am. But the problem is, Jeff told us that the last trip from Dingalan back to Cabanatuan is at 3:00pm. That gives us barely 4-5 hours to enjoy Dingalan.
We were very aware of this but again, we were eager to take the shot. Now, for the sake of the readers, I advice you travel a day before and take an afternoon trip. Stay overnight in a homestay at Dingalan and then start your trek before sunrise the next day, so you won't have to worry about the time like us. But if you want to do it on a daytrip, you already know what happens. Hehe
Here are 2 sample itineraries you can follow:
DIY DAYTRIP TO DINGALAN SAMPLE ITINERARY
3:30am – meetup at Cubao terminal of Baliwag/Five Star
4:00am – ETD to Cabanatuan
6:00am – ETA Cabanatuan Central Terminal
6:10am – ETD to Dingalan via UV Express/mini bus
8:10am – ETA Dingalan bayan/terminal
8:15am – ETA Feeder port, meetup guide and register
8:30am – Start boat ride to white beach
8:50am – ETA white beach, start trek to viewdeck
9:50am – ETA viewdeck
11:00am – Start descent
12:00pm – Lunch at white beach, rest, relax
2:00pm – Back to feeder port
2:05pm – Trike to Dingalan terminal
3:00pm – ETD to Cabanatuan
5:00pm – ETA Cabanatuan, ETD Cabanatuan to Manila
8:00pm – ETA Manila
This itinerary looks promising and sounds ideal, but delays happen and of course we failed in following this. If you want more time to enjoy the place and see other tourists spots, I suggest you to do an overnight trip and stay at any homestays near Dingalan feeder port. I am not sure about the last trip schedules of buses from Cabanatuan to Dingalan, so just to be sure, travel before the dark. This is a sample itinerary I made:
DIY OVERNIGHT TRIP TO DINGALAN
DAY 0
12:30pm – Meet-up at Cubao terminal
1:00pm – ETD to Cabanatuan
3:00pm – ETA Cabanatuan, transfer immediately to bus bound to Dingalan
3:30pm – ETD to Dingalan
5:30pm – ETA Dingalan, check-in at homestay
8:00pm – Lights off
DAY 1
4:00am – Meet-up with guide, start trek/boat ride to White Beach
5:30am – Reach mountain viewpoint for sunrise
6:30am – Start descent to White Beach
7:00am – Breakfast
7:30am – Continue with the tour or enjoy the beach
2:00pm – Back to feeder port
2:30pm – Meet-up at bus terminal
3:00pm – ETD to Cabanatuan
5:00pm – ETA Cabanatuan Grand Terminal
5:30pm – Early dinner or buy food for takeout
6:00pm -ETD to Manila
9:00pm – ETA Manila

You can have the whole day to tour to more tourist spots, but keep in mind that you must not miss the last trip back to Cabanatuan at 3:00pm.
Projected Expenses (Compute according to your plans)
Manila to Cabanatuan bus fare – Php 240 per person (x2 if vice versa)
Cabanatuan to Dingalan bus fare (non-aircon) – Php 100 per person (x2 if vice versa)
Dingalan terminal to Feeder Port – P25 per person (x2 if vice versa)
Optional: Boat ride – Php 1000 for 10 people (you can skip this and trek to the beach if you have more time)
Guide fee – Php 800 for 5 people, daytour only to mountain view. Add Php 200 for each tourist spot you want to visit.
Ecological fee – P50 per head
Entrance to mountain view – P20
Entrance to Tanawan Falls – P20
Lamao cave and rock formation – Add 500 per boat
Homestay – Php 500-1000 each
Meals and other personal expenses
Tips and Other Reminders
As of our visit, according to our guide, camping at White Beach is still not allowed but there are collages available there. You can search for those on Facebook if you want to stay there. If that's the case, you have to arrive earlier at the feeder port, because I heard that the boats' last trip is at 5PM.
You can have your lunch at White Beach. There are sari-sari stores there that offer souvenirs and snacks. There is also a shower area if you want to freshen up, just pay P20 each.
Bring sunscreen because it can be very hot.
The hike to the mountain view is relatively easy but if it rains, the trail gets muddy and a bit harder to take.
The first itinerary is a bit tight for a day tour. Allot time for delays. In our case, the bus we took from Cabanatuan to Dingalan was so slow-moving. It would always stop for passengers which was okay, but we noticed that the driver and his companion kept stopping just to say hi or talk to their acquaintances.
If you are on a hurry like us, it's best to pack food so can even eat on the bus.
Tipping the guides or the boatmen is optional, but very helpful especially now that the tourism is still in recovery.
Come as many as you can so you can split the expenses for guide fees and the boat ride.
If you have any more questions about this trip, don't hesitate to message me on Facebook.
Good luck and enjoy!


ALSO READ: Check out this Bali-inspired resort in Quezon, a few hours away from Dingalan