This pandemic has drastically changed the whole idea of traveling. Many would agree that travel has become a bit frustrating because of a long list of documents needed depending on the destination. One of these is the RT-PCR Test, which is a common requirement to many destinations that opened up for local tourism recently. The problem, though, this doesn't entice tourists or give them second thoughts on traveling because people dread to be swabbed. On top of that, the test is expensive. It can go around P3000-P5000 for private facilities.
The good news is that the Department of Tourism launched one of their recovery strategies and signed a memorandum to finance a subsidy program for domestic tourists' RT-PCR test! Because of this, you will only pay 50% of the regular rate.
You can apply and avail these from two facilities: 1) UP-PGH (Philippine General Hospital) for only P900 and 2) PCMC (Philippine Children's Medical Center) for only P750.
Note that you can avail it if:
You are a Filipino or foreigner residing in the Philippines.
The purpose of your travel is leisure in a domestic destination.
Your destination must be declared open to leisure tourists.
Your travel/departure date is more than five days away.
What are the requirements?
Prepare the following:
Copy of two (2) valid government-issued IDs (Driver's license, Passport, PRC license, PhilPost ID, UMID, SSS, Voter's ID, TIN ID, PhilHealth ID, and Senior Citizen ID)
Copy of confirmed hotel booking
Copy of roundtrip transportation tickets, if applicable (airline/bus/ferry tickets)
How to apply and what is your timeline of application?
Visit https://www.tpb.gov.ph/rtpcrphtravel/. Select your chosen RT-PCR Testing Facility. Our travel date is January 23, 2021. I applied as early as January 11, 2021. Again, you can apply at least 5 days before your flight/travel.
Fill out the form with all necessary details. Make sure to double check your spellings. IMPORTANT: Your email address must be correct. Triple check it!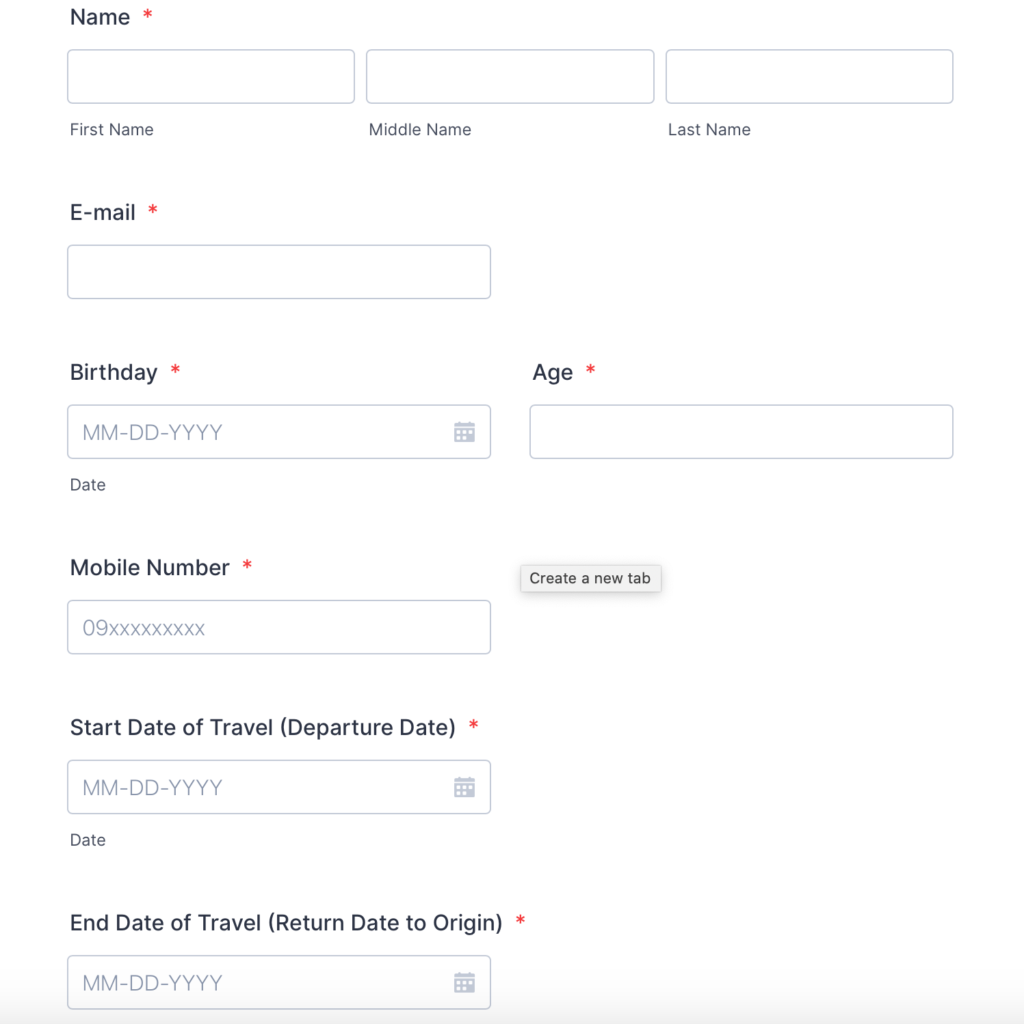 Upload all requirements. File size of up to 10MB is accepted. Remember that everything should be a CLEAR copy. You can get rejected because of unclear uploads.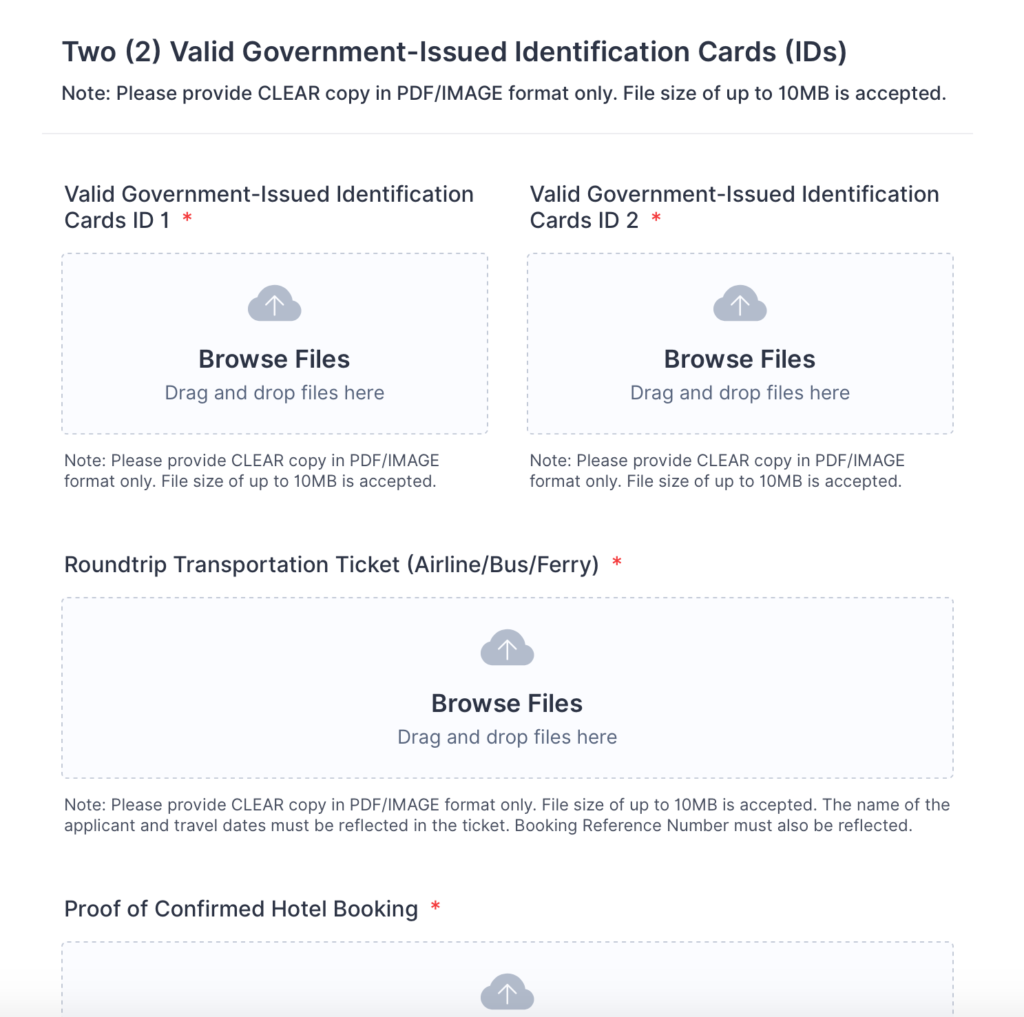 Shortly after you submitted (around 2-3 mins), you will receive an email that you are successful in the registration. This is not yet your final confirmation and approval.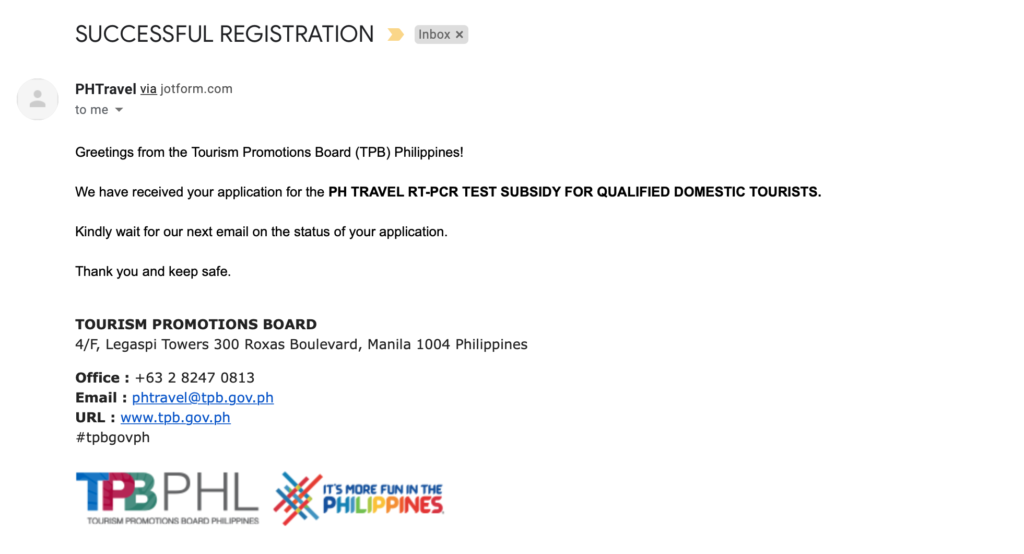 Next, you will receive an email to know whether you are approved or rejected. It can take just a few minutes, hours, or even days before you receive another but don't be anxious. They will need to verify all your uploaded files.
If you are approved, you will see further instructions. You will need to wait for your final schedule. Below is a sample of an approved application: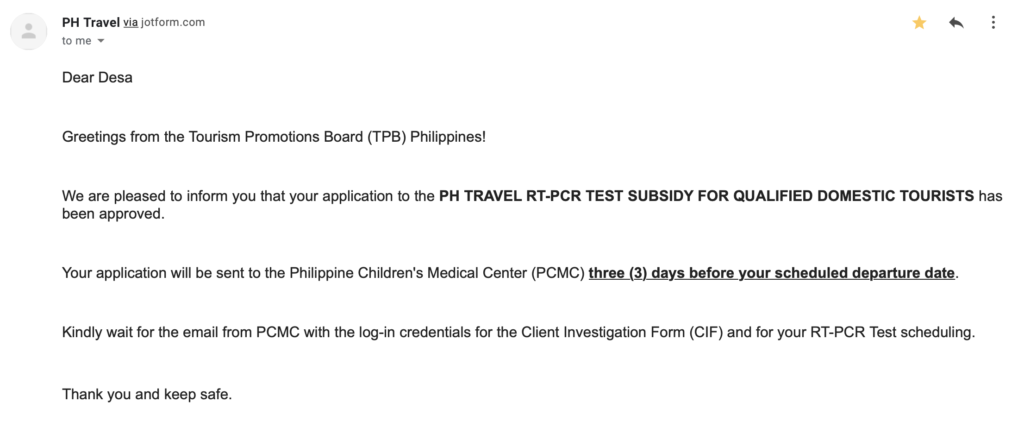 Take note of the statement "Your application will be sent to the [FACILITY] three (3) days before your scheduled departure date."
It means that you will receive the CIF form and your schedule at least 3 days before your travel.
Since I would be traveling on January 23, 2021, I received my schedule on January 20, 2021. My test was scheduled to be on January 21, 2021.
You will now receive an email like this for your schedule:
Download the CIF form and edit it out with all necessary details. After that, send it back to pcmcdotcovid@gmail.com. Like what was instructed above, do not reply to this RT-PCR Schedule email and compose a new email for faster transaction.
After sending this new email with the CIF form attached, you will receive a reply from them saying they have acknowledged it.
And you're set for your RT-PCR test! Bring a valid ID, your own pen, and alcohol. Remember to go on or before your scheduled time and practice minimum safety protocols such as wearing masks and face shield. Keep distance to others.
After my test on January 21 at 9AM, I received my results on the same day, around 11 PM. If I counted correctly, that was just around 14 hours.
If your email for the schedule came later than 3 or 2 days, I suggest you follow-up. If your results came later than 24 hours, I also suggest you follow-up. You can email them at phtravel@tpb.gov.ph. I know many people who have applied in the subsidy and they haven't encountered any problems with this so far. All the emails were just right on time, so don't be anxious. It's also okay to have a back-up plan and look for other swabbing facilities just in case your application doesn't get approved or something unexpected happens. The results usually arrive within the day.
If you have other questions I wasn't able to answer, check out the Tourism Promotions Board's FAQs: https://www.tpb.gov.ph/press_releases/ph-travel-rt-pcr-test-subsidy-for-qualified-domestic-tourists-frequently-asked-questions-faqs/
I hope this helped you prepare for your future travels! Stay safe!